It's time for a little rest before heading back the eighteen km for tonight's show of Cathy Jones and tom Wilson (of Blackie of the Rodeo Kings).
Tom Wilson opened the show with stories of growing up in Hamilton . Steeltown , making references to all the great people who have also left.
Stephen Brunt introduced the show, said it was a special performance. Shelagh Rogers was in attendance but will not be called upon until the official opening the next night. Tom Wilson brought Sandy Morris out on stage to provide accompaniment. Did I tell you I've had a crush on Sandy Morris since'80 when he was in Wonderful Grand Band? His charm and good looks haven't faded. Tom talked about Cathy Jones being the inspiration of his songwriting. He pays tribute to Hamilton in his songs. Westdale mall, Fennell ave , just like any other famous street in a song. Sandy Morris also used to date Cathy many years ago. I remember hearing him say that it was a privilege to be Cathy Jones' boyfriend. Everyone wanted to be.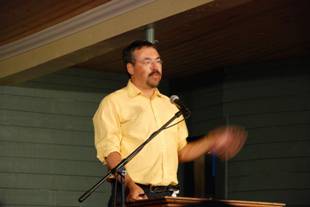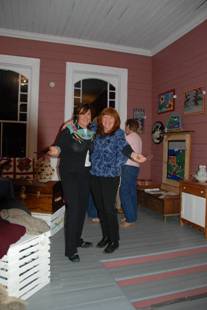 Cathy Jones came out for some stand up and kept the crowd totally captivated. She talked about coming home to NL and her life on the road. She joked about friendly Newfoundlanders, becoming a little jaded on the mainland. Cathy was staying at the Battery hotel in St ,. John 's when she was home for some sort of awards ceremony. Her sister came by to visit and she asked the desk clerk for her room number, the clerk handed her a room key. When she refused, the clerk came back with, "What are you going to do if she's not in?" Cathy shakes her head.
At intermission we had a chance to check out the digs upstairs. The upper floor also had a small stage are set out with local crafts for sale, a silent auction for the original art work for the first 'festival' poster, and some fabulous local art. Some pieces were still 'in progress' . The book table was here and Bryan Prince and I became fast friends .. A bar was set up. Stephen pointed out that the liquor laws were probably being broken, but as long as everyone behaved, they could bring their glass of wine back to their seats. The area was open and after performances, but because of the creaky floor and a potential disruption to the show, it was off limits during the performances. I bought the Joel Hynes, along with the new one from Gil Anderson- Dargatz The bookseller has come all the way from Hamilton , with everything he could find by the featured authors .. There was no local bookseller that wanted to do the job. Interesting.
The community of Woody Point was once the economic capital of Western Newfoundland Artists and camera buffs can find a wealth of beautiful images in this picturesque fishing village.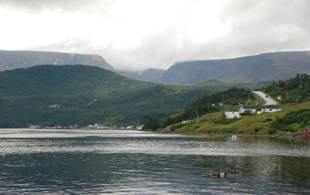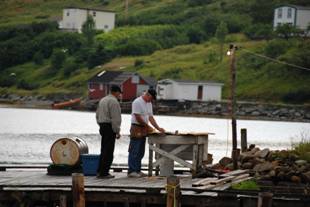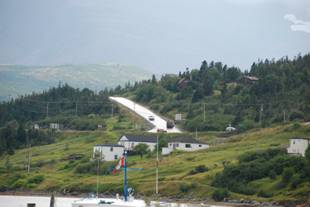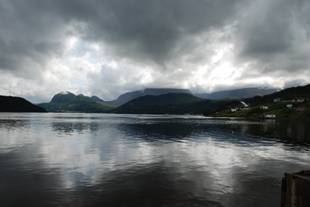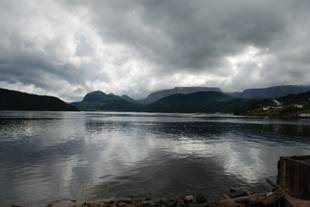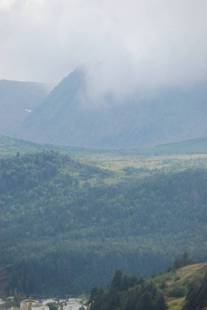 The lovely and historic Western Newfoundland village of Woody Point , on the south shore of Bonne Bay , is surrounded by the breathtaking landscape of Gros Morne National Park . Writers, artists and scientists are drawn here from around the world.

Home-grown talent runs deep, too -- in art, craft, music and award-winning architectural restoration. In the heart of the community stands the Woody Point Heritage Theatre, built more than a hundred years ago. Owners Charlie and Joan Payne have carefully restored and renewed this cherished village feature, which has been the lively home of community dances, suppers, meetings, plays and concerts over the years.

Now this unique part of the cultural heritage of Newfoundland and Labrador also provides the stage and setting for the annual Writers at Woody Point events. Firmly rooted in Newfoundland literature, which is itself wildly acclaimed across Canada and internationally, the festival attracts both writers from abroad and those nurtured here at home. They come to Woody Point to read their work to hospitable audiences of villagers and visitors -- sell-out crowds, in fact. Here the authors can also connect with other writers over dinner and drinks or on a hike into the pristine hills. And they can soak up the areas own creative talent at exhibits of art and crafts, musical performances and impromptu after-hours celebrations that combine jam sessions, dancing and lots of laughter.
After a short intermission Cathy came back on stage as one of the 'church ladies'. It was a great show to start my first Writers at Woody Point festival. The trip back to the cabin was much more familiar now after two more daylight crossings.
---
Comments