Pouch Cove
In 2006, artists from a local community centre converged on Pouch Cove to create a mural depicting the town history. The mural is located in the community park next to the Town Hall.
So here we are nearly 2 hours later we are now north of St. John 's when we should be heading south of St. John 's . We may never get to Bay Bulls , or Ferryland for that matter. So we wound our way back to St. John 's .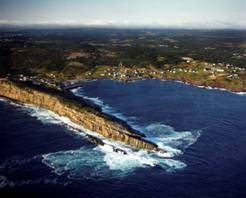 Flatrock is just 12km from St. John 's . It is part of the East Coast Trail. Flatrock's rugged coastline and high cliffs are perfect for rock climbing and hiking and provide excellent views of the ocean. Our lady of Lourdes Grotto was inspired by Fr William Sullivan, in 1956, the local parish priest. He had a vision after visiting the Marion Grotto. After extensive renovations in1973, it is believed to be the largest shrine in eastern Canada .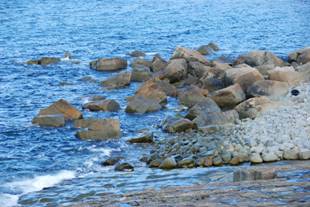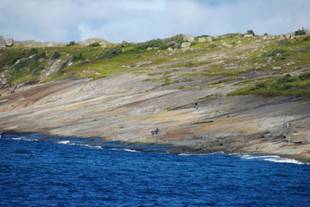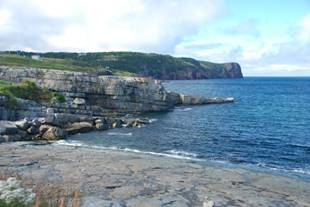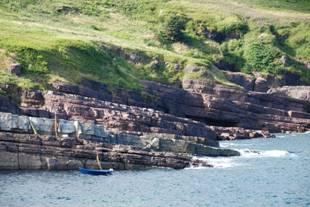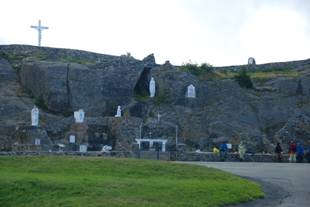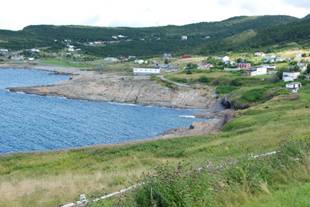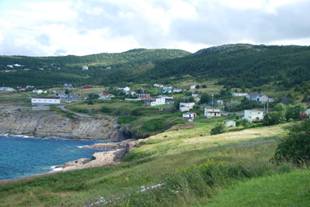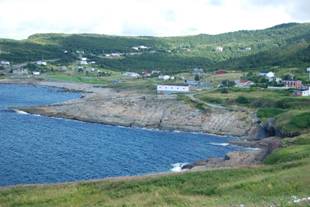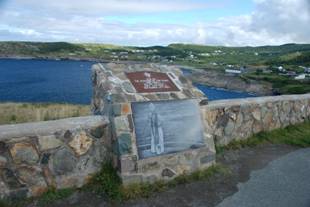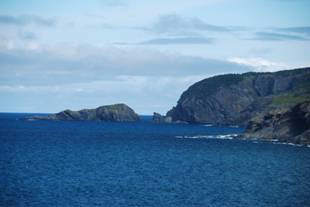 We stopped at Flat Rock, we stopped at Upper Cove, we stopped at Middle Cove. By the time we got back to St. John 's it was after five we were all ready for dinner. Sandy had planned to meet out with Ann and Renate at Erin 's pub and I decided I would try and join them as well. Back at the B&B we had a quiet little snacky dinner.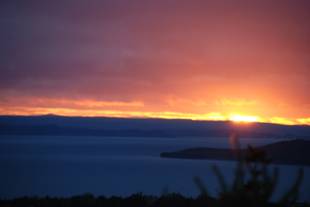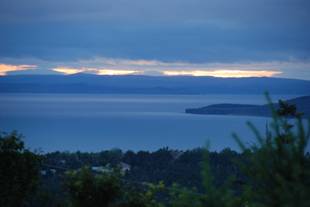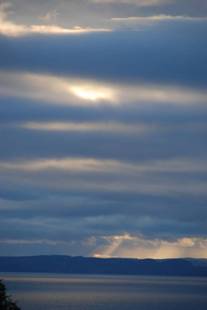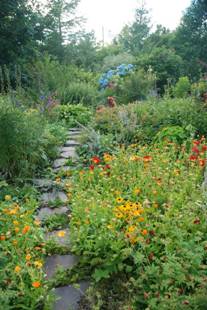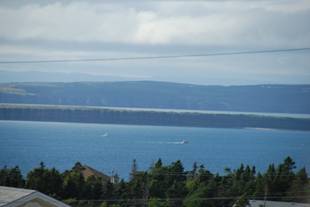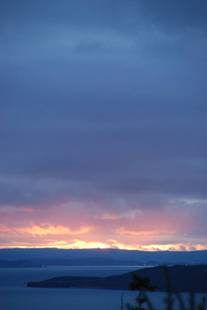 I then headed back into town to meet the girls at eight o'clock. Renate showed up first, Sandy came along a little later after having a nap. Sandy introduced us to some of her new friend, Pam, at the bar.
The Old Black Rum
Released October 1995
(written by Hallet )
I drank 16 doubles for the price of one
tryin to find the courage to talk to one
I asked her for a dance, not a second glance
my night had just begun
Well I'd drink to the father or the holy ghost
kneeling at the alter of my nightly post
and I'll raise a glass, not the first or last
come join me in this toast
Chorus
'Cause the old black rum's got a hold on me
like a dog wrapped 'round my leg
and the old black rum's got a hold on me
will I live for another day
The queen of George Street just went walkin ' on by
walkin ' on by with some guy who don't care
that she stood in line since half past nine
and spent three hours on her hair
Her friend is lookin ' at me with an evil grin
I think a bloody racket might soon begin
I must have said something to the George Street queen
now the boys are joining in.
Chorus
So I drank all of my money and I slept out in the rain
Every day is different, but the nights are all the same
You never see the sun on the old black rum
But I know I'm gonna do it again!
It seems that our host for the evening was actually from Ottawa , he was at home in St. John 's for a small vacation to see his family. He had been a regular at Erin 's pub, and when the owner knew he was back in town quickly booked them on stage. Dave Anthony. I didn't stay late as I knew the next day would be a busy one out of the meeting John for lunch and we would be heading home at dinnertime. From Water Street it is only 15 to 20 minutes back to the B&B in Conception Bay South. The road is good and well lit.