Gail Anderson- Dargatz has published three novels and a collection of short fiction. Her novels have been published in more than fifteen countries around the world. She was nominated for the IMPAC Dublin Award and the Giller Prize for A Recipe for Bees in 2000, and for the 1996 Giller Prize for The Cure for Death by Lightning . Her short fiction has been widely published - her collection The Miss Hereford Stories was short-listed for the 1995 Leacock Medal for Humour in 1995. Her newest novel, Turtle Valley , will be launched at this year's festival.
Gail has become a celebrity here. She has never been to NL before. Since she was recently married, this is a honeymoon of sorts. Gail introduces us to her husband, Mitch, who has provided all the photography in her new book. Pictures of artifacts from her grandmothers home, before the fires. Shelagh introduces her as someone who proves that 'you can go back'. Gail has returned to the place she grew up: the Shuswap - Thompson River valley.
Her preamble discusses the tragic forest fires that raged in the early turn of the 21 st century and the 'ten minutes' warning that residents were given in the event of an evacuation. She talked about the characters from her first novel that she thought she had left behind. She didn't intend to make a sequel but these characters kept coming back to her; Beth and her lighting arm. Beth is now elderly.
Mary Berry and Holly Hogan entertain but don't do much for me.
Joel Thomas Hynes is a real treat. In her introduction, Shelagh talks of Joel bringing his son, Percy, for the weekend. It's his turn. Percy is well behaved and speaks out loud for all to notice he is there.
Joel reads a passage of two from Right Away Monday and acknowledges that Percy thought he might say a bad word or two. As Joel reads aloud, he mumbles over the 'choice' words and the audience enjoys the joke.
He also reads from a passage he wrote for ' The Independent' that was inspired by Percy's building blocks. While Joel writes, Percy is playing on the floor most of the afternoon and builds a monstrous structure. When Joel asks him if he is building a 'stairway to heaven', Percy replies, 'No, it's a stairway to Hell' .Joel wonders how a child so young can have such a jaded view of the world. Percy calls from the back,' Are you talking about me, Dad?'
Joel escapes out the stage door and was not available for further conversation or praises.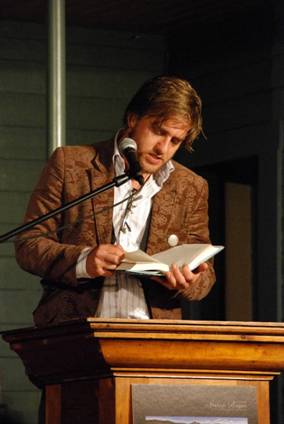 Joel Thomas Hynes is the author of Down to the Dirt , which won the 2003 Percy Janes First Novel Award. His second novel, Right Away Monday , is being released this spring. He is the co-writer of the acclaimed stageplay The Devil You Don't Know . His latest, one-man play, Say Nothing Saw Wood , is inspired by a murder that took place on Newfoundland 's Southern Shore. He is an actor, having appeared in numerous stageplays , short and feature films, television productions and recently received the prestigious Golden Sheaf Award for Best Actor at the Yorkton Film Festival in Saskatchewan .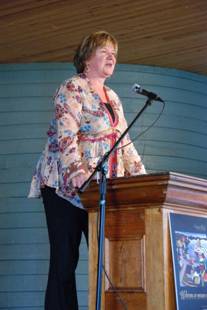 Mary Barry features Holly Hogan in the next set. Holly is also known as Mrs Michael Crummey . Although she is pretty and her voice is pleasant, she has no stage presence to captivate and keep my attention. I don't even remember the songs she sang. Mary Berry is a recognized singer and composer she trained in voice PML puppetry Theatre and dance. For her songwriting she was named female artist of the year by the Music Industry Association of Newfoundland who is also a semifinalist in international songwriting competition for jazz.
The Saturday afternoon performance was an interview featuring Gail Anderson- Dargatz .
Normally, while journaling, I would be referencing the temperature and weather conditions, but every day seems to be the same. Cool in the morning, so long pants are in order. I haven't worn my sandals at all. If it wasn't raining when we woke, it would be so before we got going anywhere. As we traveled in on 431, the light was ever changing, so I had to stop every time. Each morning, we took a leisurely pace. We headed to Woody Point to see some shops before the show. This morning we went in to Glenburnie to check out Pic-a-tenarife gifts. The shop was a lovely cabin on a property next to a raging brook. With all the rain we had been receiving, the brook was quite lively and rumbling loudly. I can imagine that it would be very soothing to hear it outside the cabin on a hot summer evening. We must stop here again with more time. We were almost late getting to the theatre, but there a few choice seats right up f ron t that we tried out.
It was also an opportunity to get some better pictures.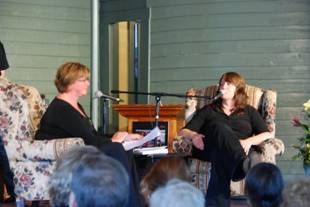 The format for the performance would be a little different and the theatre was not full. The big comfy chairs were courtesy of Rose Dewhurst . The show was being taped for future broadcast on Sounds like Canada with Shelagh Rogers. Gail goes much deeper into the inspiration for her book ' Turtle Valley '. Ten minutes notice to evacuate. What would she take? Her answer was her children's art.
The rain starts to fall heavily but we are all inside and don't mind. The music this afternoon was provided by Gros Morne Summer Music. Gros Morne Summer Music is a group of musicians led by David Maggs . It is an attempt to see to see if classical music can have a broader appeal without the 'fur coats and champagne', nostalgia or pretense. this year's program of chamber music also includes klezmer , Gypsy, jazz, Hammer dulcimer, and traditional music from Norway and Newfoundland . They have performed from the campgrounds of Cow head to the CBC's Glenn Gould Studios in To ron to . Shelagh Rogers has referred to David Maggs as "one of the most creative men in classical music today." GMSM was founded on the conviction that great art is essential to great communities and with this in mind there are tireless in breaking down the boundaries that separate music from a meaningful role in our lives today. Breaking down boundaries has occupied much of their recent concert series. Maggs has put a great deal of emphasis on taking the formality out of the classical concert and focusing on down to earth, humourous introductions that set the music in its social context, allowing for easier access to the meaning and language of the composition. The tone is chatty, welcoming and warm. The challenge is to engage in light and most of all entertain. This year's festival includes Charlie Payne on accordion, MinTze Wu on fiddle, David Maggs and piano, Diederike van Dijk on guitar and vocals, Maurice Good narrating with Jem Moore
.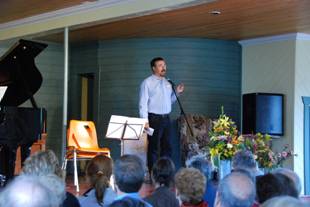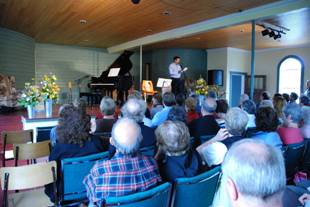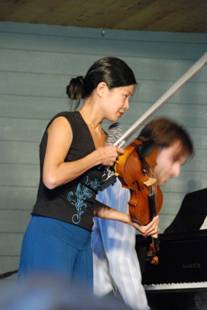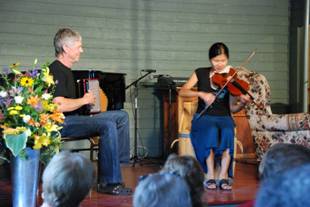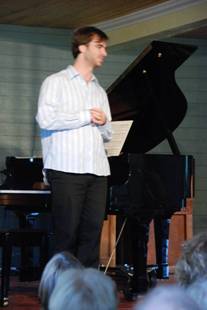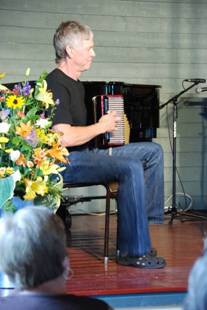 We decided to stop for an early dinner at The Loft. Of course it's cod for me and mom is going for the shrimp. The whole experience is much more pleasant. Our server tells us exactly how every dish is cooked. I nearly forgot to mention that The Loft was not our first choice for dinner. We stopped by the shop we ate in on Wednesday to pick up another vest and a notebook that I would use instead of the elect ron ic journal. The restaurant attached was quiet so we took a seat and waited, and waited, helped ourselves to menus, and waited then decided to try some where else. We were glad we did. Setting up in the corner of the Loft was a 3 piece combo; guitar, accordion and cello. Very lovely indeed. Not too loud. It was a great choice of music including 'O Caroline concerto'. I never would have guessed that Mom would like it. Dinner was finished early so back to the cabin we rode.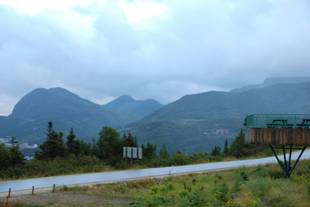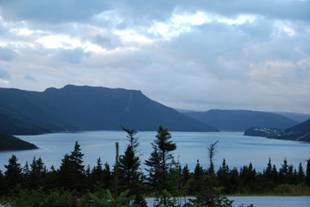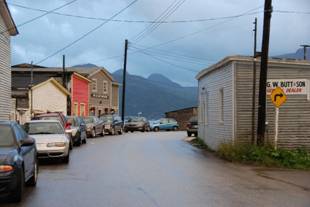 ---
Comments