Epilogue.
A few days later, we had lunch at the old York with Yvonne. Mom had me retelling the story is about the sub, about the tower, about the whales, about the tablelands. She couldn't remember everything she saw. I remarked on how we would make some changes next year. Next year? You want to take me back? Yvonne remarked about mom's comments last Christmas when she received the gift. She was apprehensive, she figured she'd be dead by then. I prepared a photo album for mom. She carried it around with her like it was a piece of gold. She took it to the girls with coffee, she took that line dancing, she took it to the hairdressers, I bet you she even took it to church. She was so proud of that book, she was afraid to call me and tell me that she lost it. It seems that wasn't lost after all, she had loaned it to Marion .
Sandy has embarked on a new career. She's working in a call center and is developing her own tour company.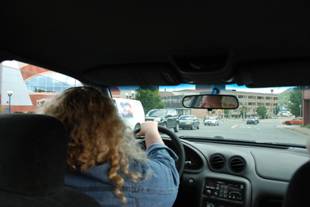 Plans are being made for next year and reservations have been made at the Woody Point motel. With help from Jay and Max , I've installed new software program to allow me to dictate my notes from my journal into files for the Internet.