Bell Island
The #2 mine at Bell Island was the deepest submarine mine in the world. Reports of I ron ore on Bell Island go back to at least 1578, when a merchant from Bristol , England reported finding i ron deposits. In 1628, members of Cupers Cove Colony sent i ron samples from Bell Island for analysis. The colonists thought the ore was valuable for they tried to have the deposits added to their colony's property grant. Mining of the ore finally began in 1895 Thomas Cantley , scty of Nova Scotia steel and Coal called the mine, Wabana , which is believed to be the Abenaki word meaning the place where the daylight first appears. The last operating mine closed in 1966. Up to then it was Canada 's longest continually operating mine.
Portugal Cove-St Phillips
The community can trace its history to when Portuguese explorer Gaspar Corte Real stopped in the area to bury two of his crew who had died at sea. Early settlers were of both English and Irish ancestry.
Thursday, our last day in St. John 's . I dropped mom and Sandy off at The Rooms. The plan was to meet John for lunch at the Duke of Duckworth on Duckworth. The entrance to the pub is awful little staircase that joins Water Street to Duckworth Street you can also enter the pub from Water Street and walk up stairs inside. The building is stone and it is probably been here since the late 18 hundreds. I'm sure it has survived several fires. I found a little table where I could sit, wait and read the Scope music and entertainment magazine. John arrived shortly after, introduced me to the bartender and suggested we sit at the bar rather than this dainty little table. I haven't seen John and close to 25 years neither one of us wanted to believe it. I had one advantage over him know I had viewed his picture on his website and knew exactly what he looked like he hadn't changed a bit , Well not much. We caught up as easily as one can in an hour. We each spoke about our new lives and we both seem to have fared well. We have pledged not to wait another 25 years before meeting again and it looks like it would be in St. John 's . John still has no desire to come to To ron to .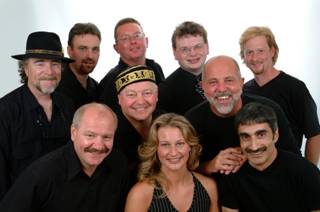 I returned to the rooms to pick up mom in Sandy . They had a wonderful lunch in the coffee shop. We did a little tour around the gift shop I bought a beautiful basalted bowl for Jay. As we were sitting in the lobby trying to decide their next move Sandy offered to take mom to her clinic. It wasn't far and we found it easily and welcoming. It was about 40 minutes before mom got to see the doctor and her diagnosis was correct. We had her prescription filled at the pharmacy after stopping for coffee in the Loblaws . Mom was pretty tired so we decided it was time to move on to the airport we returned Sandy to her home thanked her for everything that she had done for us and we were on our way with quick directions to the airport. We filled the car with gas before returning the car to the rental depot, and checked in. We had plenty of time before the flight so we perused the galleries and shops of the airport. We had a tough flight home. Those images are etched in my mind forever. Landing at Pearson mom wearily said," Robin, I'm too old to travel." We laugh about it now even though it seemed pretty serious at the time. God bless the flight crew.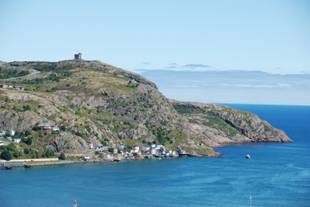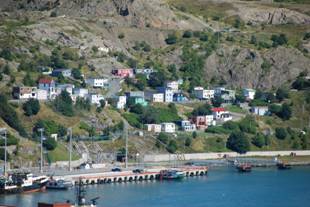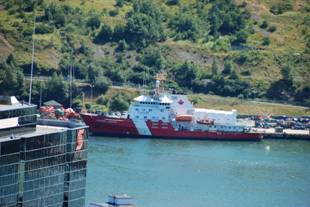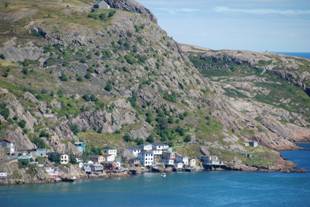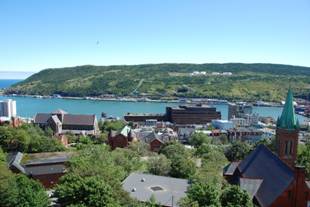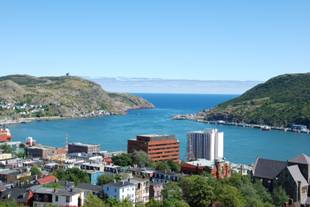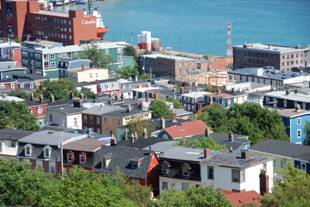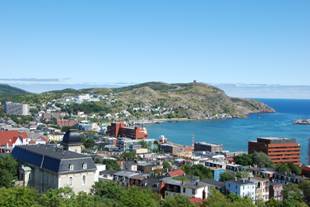 The Rooms is a cultural facility in St. John 's , Newfoundland and Labrador , Canada . It houses the Art Gallery of Newfoundland and Labrador, the Provincial Archives of Newfoundland and Labrador and the Provincial Museum of Newfoundland and Labrador . On a hill overlooking the port city, it can be seen from almost any point in St. John 's .
The facility was officially opened on June 29, 2005. The building's architecture and name is a reference to the simple gable-roofed sheds (called "fishing rooms") that were once so common at the waterline in Newfoundland fishing villages.
The grand building, whose glass form is extravagant in and of itself, offers a stunning view of downtown St. John 's and her architecture, St. John 's Harbour , and Signal Hill.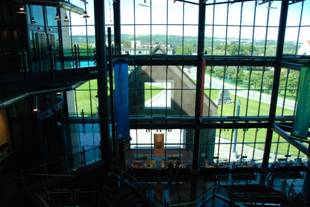 View of St John 's from the cafe 1