Our journey was completely smooth until we got to the Deer Lake airport, there was no car. It seems they were still expected us at the downtown location so our car was given away.
We had a little wait for a car
The car eventually came. It was a Grand Prix. A little bigger than the Yaris we ordered. This could be a good thing. .As we left the airport, the light was beginning to go but we pressed on. It turns out that we made a wrong turn but luckily we were only ten minutes out. As we turned off the tch , the road condition deteriorated, but at least I could see the centre line. The sunset was amazing over the mountain but there was no where to pull off. We were heading west so I hoped we could catch the sunset on a rise. Soon after that, mom s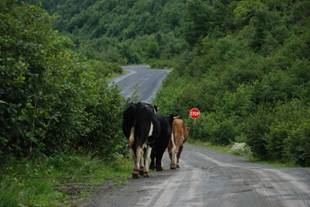 tarting to get anxious. She didn't say anything in particular but I could tell in her voice each time she asked "How much further?" Her seat was quite low down. It must have been like being a kid in the back seat of Dad's huge Impala on the way to cottage, when all you could see looking up out the windows was the light filtering through the trees. Up and down , down and up along the gravel road north out of Havelock ... Up and down, down and up. The sun had set in the valleys but the tops of the mountains had a glow of purple on the tips. There was a huge grade coming down into Glenburnie which went down about a km and a half. Straight down, no curve. No emergency run off. "Test your brakes" it would have said in West Virginia , but this is Newfoundland . The only signs warned of a crushed car next to a monstrous moose.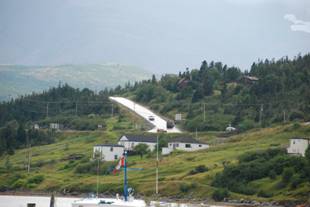 Mom was panicky that she could not see the road, and probably thought that I could not as well. I felt familiar with the area even though I could not see a thing, beyond the edge the road. I had driven that road so many times in my mind. I counted off the towns one by one to Mom: Wiltondale , Glenburnie , Birchy Head, Shoal Brook, Woody Point . We follow 431 out of Woody Point around a steep sharp left handed upward curve on the way to our destination.
"One more town Mom".
"How far is that?"
" Eighteen Kilometres !"
" Oh my gawd !" she exclaimed.
Looking back on that made me laugh for the rest of our journey.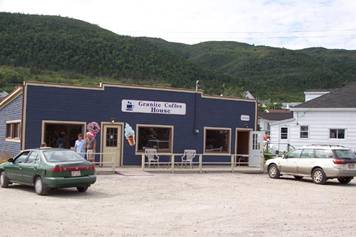 At about the 15 km mark I could see the flat surface of the gulf between the mountains and knew we were nearly there. The lights of the town were aglow in the valley. Trout River . Now all we had to do was find our cabin.
As a result of the excitement I had some sort of upset once we got settled in the cabin.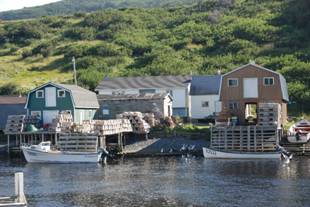 Morning brought grey skies and a little fog and rain. We needed to get some grocery items. The choice had not been great and we needed items .more suited to our diets. We headed off to discover the lay of the land, drove around to Trout River boat cruise wharf and checked it out. It was a spectacular view of Little Pond. We headed to the market & for some fruit, bread, and a few veggies .A trip to Woody Point allowed us to find the theatre, a cute book Shop. We had a light lunch then to see the sights of Woody Point in the pouring rain. Mom wanted to know what these people do for a living."They can't all be fishermen". Today there are no boats in Bonne Bay . Strange. Returning to Trout River I felt we had to stop at each lookout stop for some pictures. The sky, clouds and light were ever changing and it was a spectacular sight.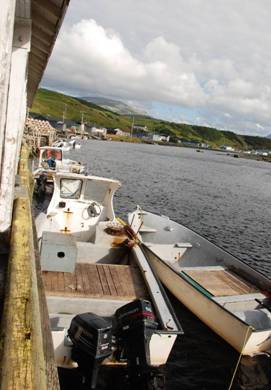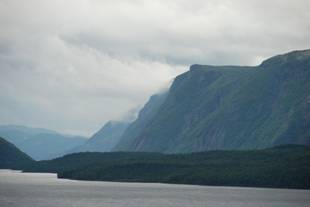 ---
Comments