Setting out Saturday eve was quite foggy. Mom was reticent about the trip so we decided to turn back when we reached Green Gardens . This means we're going to miss Des Walsh and Michael Crummey . Michael Crummey has agreed to fill in for Donna Morrissey whose father has passed away so she is unable to attend. This makes me sad. Donna Morrissey has produced two national best-selling novels Kits Law and Downhill Chance, two of my favorites. All of her novels are award-winning. Des Walsh is a festival regular. He has had an extensive career in Newfoundland as a cultural writer screenwriter actor musician but he is mainly known as a poet. He cowrote the TV drama of the boys of St. Vincent which won a Gemini award. He also wrote the screenplay of Bernice Morgan's novel Random Passage.
We landed at the seaside Restaurant for coffee and dessert but were prohibited from eating in the big dining room upstairs where we ate in previously. It wasn't much of a sunset over the bay as we were pretty socked in. Partridge berry pie was delightful but an uneventful forgettable visit. Buddy playing host stopped by to see if we were OK and talked of the moose traffic.
Des Walsh is a regular at the Festival. Born in St. John 's , he has four published books of poetry, including Love and Savagery , currently in development as a full-length feature film. His work for the theatre includes Fishwharf and Steamboat Men , Tomorrow Will be Sunday , The Songs of Weather , Garland House , Play Somethin ' We All Knows , and John ny August . He co-wrote the TV drama The Boys of St. Vincent , for which he won a Gemini Award in Canada and the Umbria Fiction Award in Italy . He was, also, the writer of the TV adaptation of Bernice Morgan's novel Random Passage , which has aired numbers of times on CBCvv
At some point over the course of the week I spoke to Michael B and Anne about the possibility of doing the 'orchid tour' and native orchid show in NL.They were quite receptive to the idea. As luck would have it, I found out on Sunday that they had given their ticket to Ian for Saturday evening that we skipped.
Sunday morning we woke a little earlier so I was able to catch a little Co ron ation street.
On tap for today, our last day of the festival is Bernice Morgan and Charlotte Grey. Charlotte was the advocate for Sir John A Macdonald as the Greatest Canadian on CBC. He was beat out by Don Cherry.
Charlotte Gray's sixth book is Reluctant Genius: The Passionate Life and Inventive Mind of Alexander Graham Bell . Her earlier biographies were of poet E. Pauline John son, pioneer sisters Susanna Moodie and Catharine Parr Traill , and Mackenzie King's mother. Two more recent projects with national scope were The Museum Called Canada and Canada : A Portrait in Letters . "I can't think of anyone else who's working at the same level of Canadian history and biography as Charlotte Gray," says Richard Bachmann (A Different Drummer Bookstore, Burlington , Ontario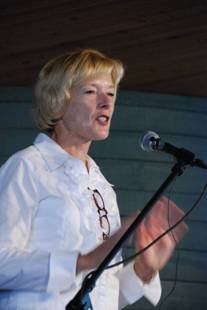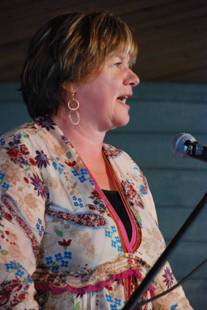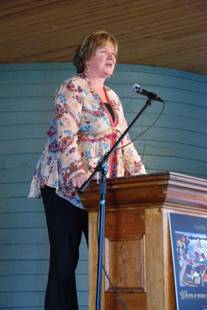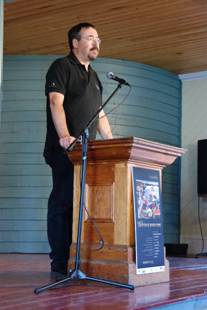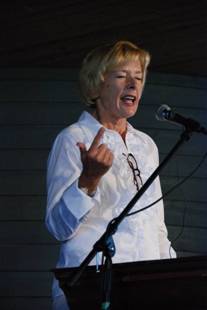 In her introduction Charlotte notes that the audience has plodded through sex, alcohol, cocaine and group sex. She asks how on earth they would be interested in the history of a man who invented the telephone. Why Alexander Graham Bell for a subject? Mabel Bell had always fascinated her; she had a face like she went through a hedge backwards; she was deaf at age five; she could lip read in English and German. They had met when she was 15 and he was 25 years her senior.
CG went to the Bell museum in Baddeck , Cape Breton to read their letters. AGB was interested in electricity and understood how the ear worked. During her research Mabel was still the inspiration for the book. Being deaf, she would not use his invention. This kept him grounded and they were able to function properly in society. Bell Sr. was a Doctor in Scotland and came to NL for a vacation and clear weather.
After a visit the day before, Joel Hynes had suggested to Charlotte that the passage that should be read must be the family visit to Newfoundland . Charlotte enlightens that if you don't like the passage, you can blame Joel. She says, "I have a feeling you can blame a lot on Joel". The previous day on an outing to Cow Head and Shallow Bay , Joel tells the story of his grandmother praying for wrecks. As children, they moved the lights so that Cape Mutton was often mistaken for Cape Ballard …… The passage Joel recommends is about the journey from Nova Scotia aboard the steamer SS Hanoverian when it goes aground off Portugal Cove South, thinking it was Cape round Cape Race.
Mabel's recollection was a complete reversal of what was reported in the St. John 's telegram. She felt the locals were 'inhospitable and vultures'.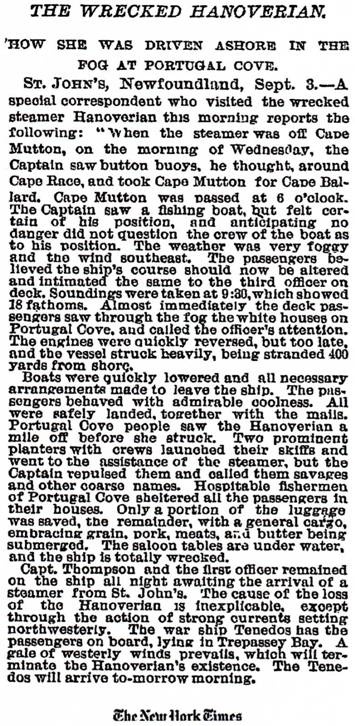 No one realized that AGB was aboard because of manifests. The people of St. John 's were determined to show they were to outdo those of Portugal Cove. They were wined and dined but ultimately found a more hospitable place in Cape Breton .
Flying machines were his next invention and he employed at one time 45 to prove kites could carry man. Over Lake Bras d'Or one actually did on the Frost King, tetrahedral kite. Alec had the foresight to catch it on film to vindicate his faith in kites. When CG visited the home some 80 years later, it was left just as if he was still there.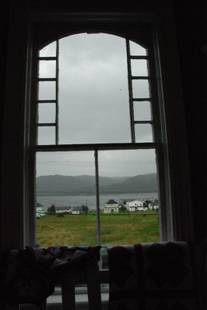 Julia Halfyard and Brian Way entertain….
Julia Halfyard has delighted audiences in music ranging from popular to classical to musical theatre in settings ranging from cabaret clubs to the symphonic stage. She has worked with a variety of Musical Theatre companies throughout Canada including the Sunshine Festival in Orillia , Ontario , the Charlottetown Festival in PEI, Spirit of Newfoundland , TaDa events, and the Stephenville Festival. Selected credits include, My Fair Lady, Annie Get Your Gun, The Mikado, Chicago, Cats and the ever-popular Divas shows in St. John 's.
Ms. Halfyard has also been invited to perform throughout Newfoundland and Labrador, and across Canada, entertaining dignitaries and officials including private performances for former US president George HW Bush, as well as John Crosbie , Brian Tobin and Jean Charest.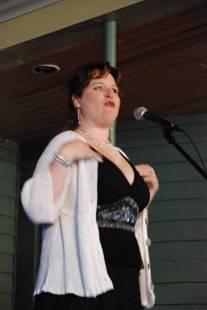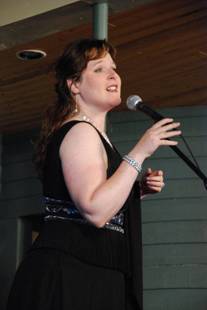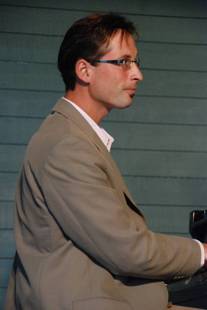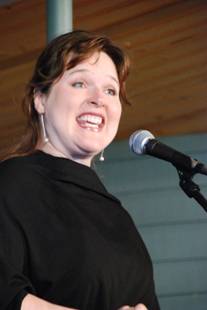 Her tremendously successful Cabaret series at the exclusive Cigar Volante at Bianca's in St. John 's led to a run at the 'Velvet', one of Montreal 's highly regarded Cabaret clubs. Chosen by CBC Music Craft as a guest, Julia Halfyard also had the pleasure of hosting an hour long radio special on Cabaret music. She was selected to sing in the 2002 Juno showcase series and the 2003 East Coast music awards, and in 2002 her colleagues at the Music Industry Association of Newfoundland nominated her as 'Female Artist of the Year'.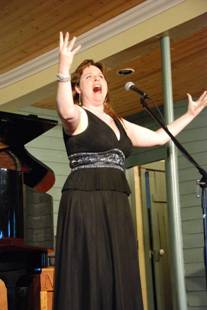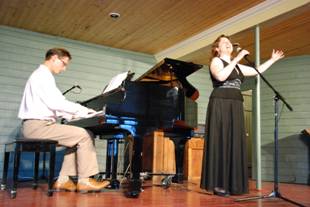 Since completing her Master's in Voice Performance at Memorial University , Ms. Halfyard maintains an active voice studio in St. John 's and produces a highly popular annual Summer Musical Theatre School . She can be heard on her CD entitled, 'Julia Halfyard – Meow'.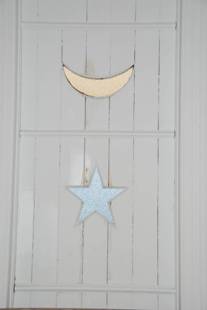 Bernice Morgan reads from Cloud of Bone She is going to read three different sections including St. John 's during the war, life in Rabbitown and of the Beothuks . Although Bernice has written such features a Random Passage and Topography of love, I was charmed to hear her sense of humour .. The first passage is of Rabbitown . Bernice wasn't sure if it was called that because you could hunt or was it because they had so many children? St. John 's during the war era reminisces of the Brow, south side hills, Muddy Pond, Middle road. She lived near Rabbitown . She says you must listen carefully because it's like listening to the evening news. You don't know the difference between the Shiites and Sunni, whose side were you on.
Girls with American soldiers some with the Canadian Navy. Street fights US vs Canada until the Shore patrol showed up.
The Battle of the North Atlantic was erasing our past and our brutality. When Bernice was writing this book she shared an office with Joan Clark. It had a chair, table, kettle and a radiator. She sat on the rad looking out at the South Shore realizing that the grave of Shawnadithit was now missing, being excavated. Gone and probably dumped into the harbour . Her story is written in the first person, Shawnadithit , the last Beothuk . ( she actually walked into captivity, rather than being captured).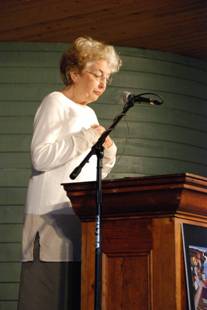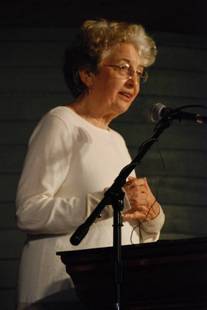 Bernice Morgan (1935 - )
For Bernice Morgan, the past is crucial in exploring one's identity and future. Born and currently residing in St. John 's with her husband, two daughters and son, Morgan began writing full time in 1986 after resigning as the Communications Officer and Editor of the Bulletin under the Newfoundland Teachers' Association. She also worked in public relations and as Editor of the Gazette for Memorial University .
Morgan recounts her Newfoundland childhood experiences, noting that the production and dissemination of Newfoundland culture was almost benign. Watching American films and reading English or Canadian literature while in school, she recalls that even in the 1960's her school literature book, Our Heritage , never even mentioned the word Newfoundland . Such dismissal carried over in her work, for when she wrote school essays she referred to 'villages' rather than ' outports .' As a result of her early experiences, her fiction exhibits restlessness. The permanence of objects and experiences in relation to the impermanence of people and the wrestling of their formation is "a dark hole, it can draw you under until you don't know who you are, don't know what you might do."
In writing her first novel, Random Passage (Breakwater 1992 ) , Morgan has overcome the omission of Newfoundland representation experienced through her early education. She comments, "In tracking my own relationship with this place-a lost and found story-I come near to tracking a story common to most Newfoundlanders of my generation."
Cape Random, the setting of Random Passage , possibly reflects her own lineage in rural Newfoundland, her mother, Sadie Vincent, growing up on Cape Island in Bonivista North and William Vardy , her father, on Random Island in Trinity Bay. Simultaneously, Cape Random is archetypal of some of the common experiences, both fiction and non-fiction, of early outport settlement.
"The landwash wasn't grey and white any longer but red. Red everywhere, like someone had trampled partridgeberry jam into the snow, red and purple and pink-and in the middle the two of them lying. Ned face up, with one arm half torn away, and Isaac to one side, curled down into a heap with the animal still clawing at him and growling like a dog with a piece of meat" ( Random Passage ).
Being mauled to death by a polar bear is only one of the inhospitable hardships faced by the settlers of Cape Random . Morgan explores the experiences of outport life in nineteenth century Newfoundland based on the journal of Lavinia Andrews, one of the novel's main characters, illustrating the perseverance of Cape Random's inhabitants through death, starvation, and disease, remote from communication. As Morgan's epigraph notes, "hard work could make for a safe place." Yet, it is not just the constant struggle between death, despair and community survival, a persistent Newfoundland theme, that has made Morgan's novel one of the most memorable in Newfoundland fiction. Her ability to question and re-question the evolution of survival, from the creating of a home in Random Passage to the embarking from it in Random Passage 's sequel Waiting for Time (Breakwater 1994), where "a going away can be a homecoming," that has made her work crucial to the island's literature.
Random Passage 's publication in a post-resettlement Newfoundland evokes the atmosphere and experiences of outport life for many people who have never experienced it. In doing so, the foundations of communal identity that many contemporary Newfoundlanders have only encountered through textbook histories is infused with life to create a story that had been factually recorded but scantily embellished. The result is no longer imagining it, but living through it in the imagination.
Waiting for Time traces the descendants of Cape Random in modern Newfoundland, illustrating an island in the face of the decline of the fishery, but most important, tracing how the past influences the experiences and memories of current Newfoundlanders.
Waiting for Time also explores a familiar story through a different critical stance, revealing concealed secrets to its present generation characters, implying that a history cannot be verifiable or even trusted if it does not consider the ways in which history can omit, distort or even dismiss certain participants in its narrative. For instance, in discovering her past, Lav Andrews, the descendant of Random Passage 's Lavinia Andrews, encounters various versions of it for she asks us: "It is better to have no history or an imagined one?" Morgan never directly answers this question; however, she implies that a culture persists through the changing and growing of its history. "A place ... forever reshaping itself, ... (Will) the Cape ... vanish completely some day(?) ... No, it is the changing that saves it."
Following the international success of her two first novels, Morgan's first short story collection, The Topography of Love , centers around twelve experiences pertaining to love, ranging from friendship, maternal love, and love experienced in one's later and beginning years. The setting occurs in St. John 's or evolves in characters from St. John 's , who are often woven throughout the stories. While some stories are unique in their ideas, ranging from an interest in a man who might be a potential killer in Labrador , many of the stories expound upon some of the ideas prevalent in her two novels. Of particular note to Morgan's concerns as a writer, Cecilia in "A Commission in Lunacy" recovers her memory of past events by researching her history in the archives of a psychiatric institution where she was undergoing treatment. This motif, of recovering an erased past and then recovering it some more, is central to Morgan's works. As she notes, "Just as much, and more, needs to continue if we are to maintain a place that will inhabit the imaginations our children-or will they have to repeat the lost-and-found story of my generation?"
Co-editor of the anthology From This Place: A Selection of Writing by Women of Newfoundland and Labrador ( Jesperson 1977), Morgan's writing has also been included in numerous anthologies. Her literary recognition, beyond winning the Provincial Arts and Letters Competition for short stories and radio plays, includes the 1995 Thomas H. Raddall Atlantic Fiction Prize, the Canadian Authors' Association Literary Prize for Fiction and a nomination for the Dublin Impact Award, all for Waiting for Time . The latter, along with Random Passage , were adapted into a CBC television mini-series in 2002. The Topography of Love was short-listed for the Winterset Award and the Atlantic Booksellers' Choice Award in 2001. She also received an honorary doctorate from Memorial University in 1998 and was named Artist of the Year by the Newfoundland and Labrador Arts Council in 1996.
Her contribution to the literary community includes serving on the board of the Provincial Arts Council and as an editorial board member of Killick Press. She has been on the executive of the Writers' Alliance of Newfoundland and Labrador and the Newfoundland Writers' Guild in addition to the Writers' Union of Canada. Her community involvement is reflected in her work with the St. John 's Status of Women Council and as a member of the St. John 's Library Board.
Bernice Morgan has written two award-winning Canadian bestsellers – Random Passage and Waiting for Time - that follow the struggles of an outport family from the early 1800's to the early 1900's. They were made into a popular mini-series for CBC TV. Morgan has spent most of her working life in public relations, first with Memorial University and later with the Newfoundland and Labrador Teachers' Association. Many of her short stories have been published in small magazines, anthologies and school textbooks and a collection of her stories has been published as The Topography of Love . Bernice Morgan will be introducing her latest novel, Cloud of Bone , at Woody Point .
The afternoon finished with the tradition of singing a chorus or two of 'Ode to Newfoundland . Mom finally got the tune by the third verse.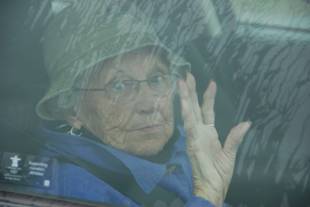 As usual, it was raining off and on all the way back to the cabin where we planned a light supper. It turned out lighter than we planed since neither can opener we had would open the tin of tuna for sandwiches. Cheese and crackers, toasted tomato and cheese instead; some nice herb tea and mom will finish off the wine.